---
TELEQUADRI S.r.l. - Via Fiume 11/13 - 20021 BARANZATE - ITALY TEL.: +39 023561870 FAX: +39 023561929 E-MAIL: info@telequadri-srl.com
ANTI-COLLISION - GIGASENSE
GIGASENSE is a fail-safe (microwave technology) anti-collision system for track bound cranes (EOT) or similar equipment in tough industrial environment.
GIGASENSE anti-collision system is easy to install, robust, maintenance free and comes with built in self diagnostic functions to monitor the system.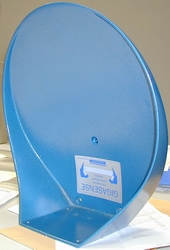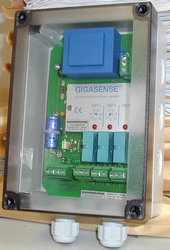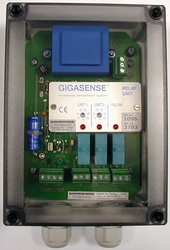 WORKING DISTANCE: 2-25 m (up to 40 m as option)
SPEED RANGE: 0.1 - 5 m/s relative speed between two moving cranes.
SPEED DEPENDENCE: The alarm limits can be increased to 0 - 7 m per m/s relative speed.
LOWEST ALARM SPEED: 0.1 m/s (down to 0.05 m/s as option).
RELAY OUTPUTS: 3 pcs. altering relays (2000 VA/8A)
TEMPERATURE RANGE: -25░C - +70░C
SUPPLY VOLTAGE: 230 VAC alt. 115 VAC (24 VDC as option)
TRANSPONDER BATTERY: Lithium 1 Ah, lifetime > 10 years.
TRANSMITTER FREQUENCY: 9.4 - 10.7 GHz (country specific)
TRANSMITTER POWER: < 0.5 mW
DIMENSIONS & WEIGHT: Antenna 428x350x265 mm, 4.0 kg Relay box 175x125x75 mm, 0.8 kg
GROSS WEIGHT & DIMENSION: 37x37x33 cm, weight 12.5 kg (Consists of one pair, A+B)
SICUREZZA & ECONOMIA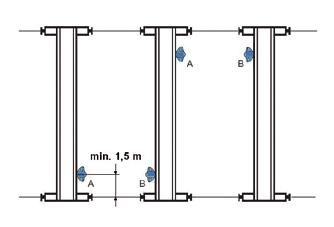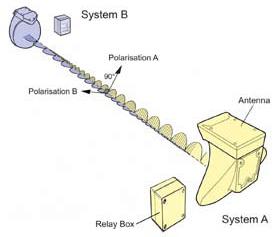 GIGASENSE anti-collision system controls and protects track bound cranes or similar
machinery e.g. distance, speed and direction. Each system (A or B) consists of an
active antenna and one relay box.
The antenna sends a microwave signal to the opposite system. By using Doppler
technique the distance, speed and movement can be controlled and managed from
the relay box.
There are 3 relays in the relay box:
Relay 1 = Warning (speed reduction).
Relay 2 = Stops crane movement.
Relay 3 = Function control.
Helps protect people and property.
The systems have a built in self diagnostic function that monitors the system
performance every 3:rd second.
Cuts crane repairs, downtime and costs.
Easy and quick to install.
Maintenance free.
Download manual


EQUIPAGGIAMENTI ELETTRICI PER GRU - ELECTRIC EQUIPMENT FOR CRANES


ENGLISH
ITALIANO