---
MOTORI-SICMEMOTORI
TELEQUADRI S.r.l. - Via Fiume 11/13 - 20021 BARANZATE - ITALY TEL.: +39 023561870 FAX: +39 023561929 E-MAIL: info@telequadri-srl.com
The range of SICMEMOTORI electric motors for industrial applications is one of the most complete and reliable existing today on the market.


In particular, dc motors are the result of 40 years of experience and technological evolution, and are manufactured using the best materials and the most advanced manufacturing technologies.


The knowledge of industrial applications and of problems related to the variable speed has been the base for the designing of ac motors for vector/inverter supply, to satisfy all needs of this kind of duty.



OUR MOTORS:

P-NP Series for general purpose


• Standards IEC 60034-1
• Fully laminated frame
• Insulation class H
• 20 shaft height (from 80 to 800)
• Power from 0.5 to 2700kW
• All most common mounting arrangement IM, type of cooling IC and degree of protection IP available
• Motors certified according to CSA C22-2 Standards (certificate no. LR77401)
Series 2F internal overpressure


• CENELEC EN 50014-50016 Standards
• EEXp-II-T3
• Degree of protection IP23 - IP55
• Approved power from 0.5 to 447kW
• Higher powers available
on request (with specific approval)
• Motors certified by CESI (certificate of approval available on request), but no ATEX Directive approval


Series C explosion proof


• EN 50014/1997 and EN 50018/2000 Standards
• 94/9/CE (ATEX) Directive, Group II, Category 2G
• 7 shaft height (from 112 to 280)
• Power from 0.5 to 45Kw with 94/9/CE "ATEX" Directive conformity
• Power up to 110kW available (with EEXd certificate, but without 94/9/CE "ATEX" Directive conformity)
• Motors certified and approved by CESI (certificates o approval available on request)







Series SM-ML for heavy duty (MILL motors)


• A.I.S.E. St. N. 1 (September 1968) - IEC 34-13 Standards
• Splittable massive frame for SM802-804 frames
• Not splittable fully laminated frame with compensating windings for ML806-818 frames
• Standard cooling IC410 (TENV) and IC37 (TEFV)
• Also available with fan IC06 (DPFG-FG) and with air-water heat exchanger IC86W (TEWAC)
• Performances and dimensions according to A.I.S.E. Standards.

Series AC standard motors for direct-on-line and inverter supply (Eff.2) - frames 56-400


• Dimensions and features according to IEC72-1 - IEC60034-1 Standards
• Squirrel cage rotor
• Efficiency class Eff2
• Frames from 56 to 400
• Power from 0.06 to 560kW at 1500rpm
• Insulation and impregnation for inverter supply
• Insulation class F
• Available coolings:
• IC411 self-ventilated (IP55)
• IC416 axial forced cooling (IP55)
• Pulse generator as option
• Aluminium frame, shaft heights 56-112
• Cast iron frame, shaft heights 132-400

Series AJAr with square fully laminated stator for vector/inverter supply (Vector-Speed) with low inertia - frames 180-280


• IEC 60034-1 Standards
• Degree of protection IP23
• Forced radial cooling IC06
• Frames from 180 to 280
• Power from 83 to 377 kW at 1500rpm
• Small dimensions
• Very low inertia
• Pulse generator or resolver

Series AQ-BQ fully laminated square frame for vector/inverter supply (Vector-Speed) - frames 100-355


• IEC 60034-1 Standards
• Degree of protection IP54 (IP55) and IP23
• Axial forced cooling (IC416) or radial forced cooling
(IC06) or air-water cooling (IC86W)
• Frames from 100 to 355
• Power from 4 to 1000kW at 1500rpm
• Small dimensions and low inertia
• Pulse generator or resolver
• Parking electromagnetic brake available on request
• UL marking available (for some frame)

Serie ACVc compact pictures for inverter supply (Vector - Speed) - magnitudes 71-90


• Standards- IEC 60034-1
• Degree of protection IP54 o IP55
• Axial forced cooling IC416
• Frames from 71 to 90
• Power from 0.37 to 3 kW to 1500 g/1'
• Small dimensions and low inertia
• Wide range of adjustment Speed ??Constant power
• Assembling of encoder or resolver
• Installation option for electromagnetic brake



Series SJ - Permanent magnet 3-phase synchronous motors with low inertia - frames 100-280


• IEC 60034-1 Standards
• Degree of protection IP54 (IP55)
• Forced ventilation IC416
• Rotor with very high performances Nd-Fe-B magnets
• Impregnation and insulation suitable for inverter supply
• Frames 100-132-160-280
• Torque from 43 to 2200Nm
• Insulation class F
• Small dimensions and very low totor inertia
• Speed regulation from 0 to nominal speed at constant torque
• Most common accessories available on request (pulse generator, revolver, brake, heaters, thermal detectors, etc.)
Series SQ - Permanent magnet 3-phase synchronous motors - torque up to 800kNm


• IEC 60034-1 Standards
• Degree of protection IP54 (IP55)
• Radial forced ventilation IC416 orother type of cooling
• Rotor with very high performances Nd-Fe-Bo magnets
• Impregnation and insulation for inverter supply
• Frames 180-225-280-355 (on catalogue) and bigger
• Torque from 750 to 8400Nm (on catalogue)
• Torque up to 800.000Nm
• Insulation class F
• Motors suitable for variable speed industrial application with no gearbox
• Most common accessories available (pulse generator, resolver, heaters, thermal protectors, etc.)
Series ST - Permanent magnet 3-phase synchronous liquid cooled motors for low speed applications (Torque motors) - torque up to 15kNm - frames 132-355


• IEC 60034-1 Standards
• Degree of protection IP55
• Liquid cooling IC9W7
• Rotor with high performances Nd-Fe-B magnets
• Impregnation and insulation suitable for inverter supply
• Frames 132-355
• Torque from 100 to 15000Nm
• Insulation class F
• Motors suitable for variable speed industrial applications without gearbox, integrated into the machine structure
• Most common accessories available on request (pusle generator, thermal detectors, etc.)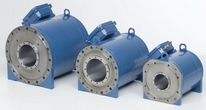 Download the catalogue
DC MOTORS
AC MOTORS
SYNCHRONOUS MOTORS PERMANENT MAGNET

EQUIPAGGIAMENTI ELETTRICI PER GRU - ELECTRIC EQUIPMENT FOR CRANES


ENGLISH
ITALIANO